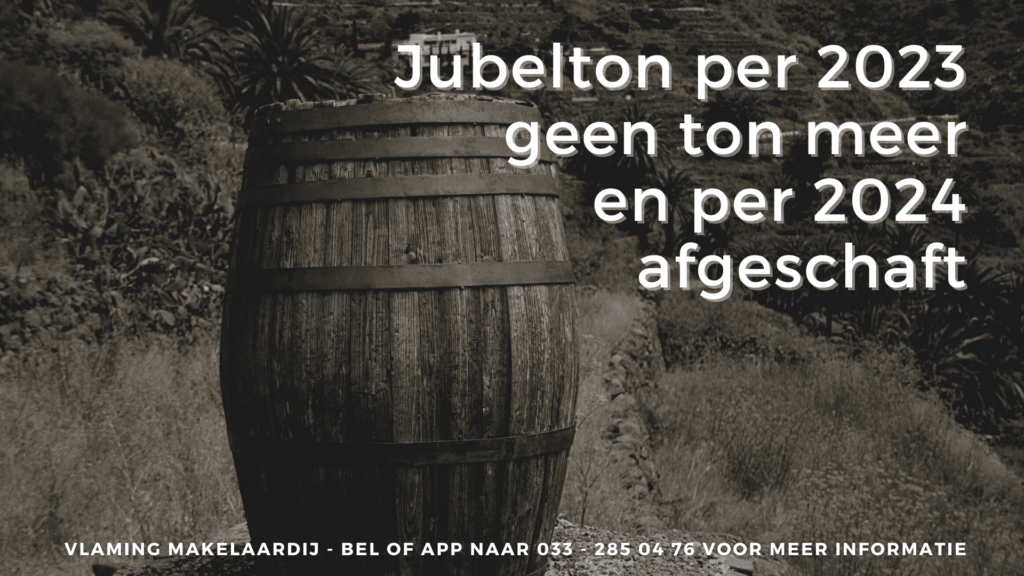 Nog geen afschaffing per 2023 zoals de Tweede Kamer gevraagd had, maar de belastingvrije schenking die iemand kan krijgen voor de koop van een huis wordt wel fors verlaagd per 1 januari 2023: € 27.231. Momenteel is dit nog € 106.671. De jubelton is straks dus geen ton meer. In 2024 verdwijnt de mogelijkheid helemaal.
Wat is de jubelton ook alweer?
Iedereen die een huis koopt in de leeftijd tussen 18 en 40 jaar kan gebruik maken van de belastingvrije schenking van iemand anders. Hierover hoeven geen belastingen betaald te worden. De enige verplichting is dat het geschonken geld gebruikt wordt om de gekochte woning (deels) van te betalen. Het maximale schenkingsbedrag is nu dus nog € 106.671. Vanaf 2023 is dit maximaal € 27.231 en per 2024 is de maatregel afgeschaft.
Er kan toch altijd belastingvrij geld geschonken worden?
Ja, dat klopt. Ouders hebben nog altijd de mogelijkheid om een bedrag van € 27.231 belastingvrij aan hun kind(eren) te schenken. Hiervoor geldt overigens ook de leeftijdscriteria van 18 – 40 jaar. Het grote verschil is dat het geschonken bedrag vrij besteed mag worden, dit in tegenstelling tot de jubelton. Deze mogelijkheid blijft ook in 2024 gewoon bestaan. Goed om te weten: net als voorheen kan je gebruik maken van 1 van de 2 schenkingen. Dus niet en-en 😉
Wat zijn jouw verhuisplannen?
Of je nu je eerste huis wilt kopen, groter wilt wonen of juist kleiner:
Vraag ons om advies voor de (ver)koop van je huis!
Bel of app naar 033 – 285 04 76 en wij helpen je graag verder! Sjoerd, Willeke en Timo hebben stuk voor stuk meer dan 18 jaar werkervaring binnen de (Amersfoortse) woningmarkt en helpen je graag verder om jouw plannen werkelijkheid te laten worden.
---
Alle schenkingsmogelijkheden in 2022 op een rijtje? Die vind je op deze pagina van de Belastingdienst.